This store is on fire in America! Turn a toy store into a children's activity center
Introduction
The American Specialty Toy Retailing Association (ASTRA) has announced the winners of the 2022 Awards of Excellence. There was only one winner of the award, and it was won by Kiddywampus, a toy retailer in Minnesota, USA. It also sells toys. What is so special about this company?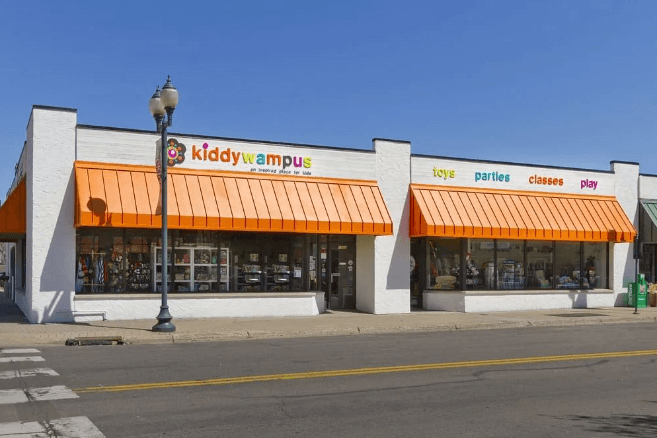 Members of the Specialty Toy Retailers Association of America include more than 1,800 independent retailers, toy manufacturers, and distributors. Among them, independent toy retailers are generally operated by individuals or families. Unlike large toy retail chain brands, such toy retail stores are mainly located near the community, closer to the target consumers, and can better understand their needs and Flexible adjustment of business model.
This year's award-winning Kiddywampus has been established for 17 years. With its unique product selection strategy and rich and diverse activities, it attracts consumers and has achieved continuous growth in performance.
01
Selection focused on the game theme of the toy
The selection shows the operating characteristics and business philosophy of the toy retail store. Kiddywampus does not adopt a full-category, large-scale and comprehensive approach in the selection of products, but starts from children's own play needs, and selects and categorizes products by theme based on the game experience that can be obtained through toys.
Kiddywampus sells toys in various categories such as role-playing, arts and crafts, model building, sports games, holiday gifts, decompression, and relaxation.
Take role-playing as an example, it is divided into dolls, dress-up games, kitchen-themed toys, outdoor life-themed toys, etc., while sports games are divided into indoor sports toys, outdoor sports toys, and bath toys. In addition to well-known brands such as Lego, Barbie, Playmobil, Sile, etc., it also follows the current fashion trend and develops its brand products for stress relief and relaxation.
Such a product selection strategy allows parents to be more targeted when purchasing toys for children, reduces the time and cost of purchasing, can fit children's daily preferences, and give play to the greater play value of toys.
02
Plan a wealth of themed activities and transform them into a children's activity center
In addition to reflecting the differentiated characteristics from other toy stores in the selection of products, Kiddywampus is not only a toy store but also a place for community children to gather and hold entertainment activities with its rich special activities. For example, organize birthday activities, camp activities, training courses, etc., to show its different business characteristics.
1. Birthday events: special discounts, birthday party services
For children's birthdays, Kiddywampus has planned two major events: Birthday Bins and Birthday Parties.
Kiddywampus also offers different themed birthday party services. Parents make reservations in advance according to children's preferences, and the store arranges venues according to the theme and special requirements selected by parents and launches various games during birthday parties to increase the fun of the party.
Kiddywampus' birthday event themes include action Jackson party, Lego theme, unicorn theme, fairy garden theme, Jedi knight training theme, dancing theme, etc., which can be used for ink splash art creation, to meet the interests of different children and bring children unforgettable experience memories and enhance customer loyalty.
Birthday Bins allow children to choose their favorite toys to fill a special large box on the eve of their birthday, where family and friends can choose toys and buy them at a discounted price as a child's birthday gift, with gift wrapping in stores.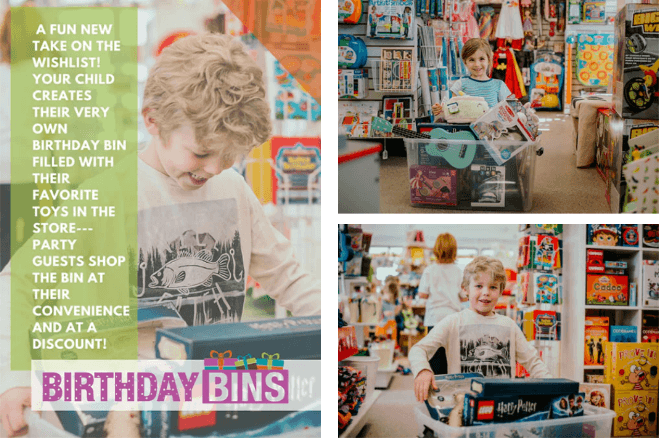 2. Camp activities: short-term, high-frequency, multi-theme
Kiddywampus's camp activities are also one of its special activities. Different from the longer and all-weather camp activities we usually see, the theme camp activities launched by Kiddywampus last about 3 days each period, and the daily activities during the period only occupy For half a day, the frequency of activities has been greatly increased, and the topics that children can participate in are also richer. The fee for each summer camp activity ranges from tens to one hundred dollars, and the lower price increases the probability of users' participation.
In terms of theme settings, Kiddywampus has set 21 summer camp themes around the current popular animation films and TV shows, such as Marvel, Full House, Peppa Pig, Doc McStuffins, etc. The theme of film and television animation IP is reflected in the scene layout and game links. The enthusiasm for children's participation is greatly improved, and it also helps to indirectly promote the sales of related toy products.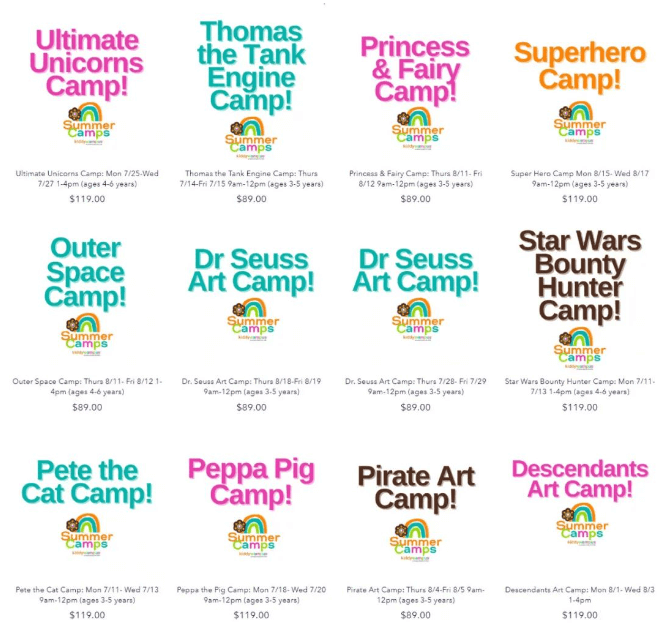 3. Curriculum: Cooperate with training institutions, focusing on children's motor development and music enlightenment
Kiddywampus focuses on children's sports development and music enlightenment. By cooperating with third-party training institutions, Kiddywampus offers interesting training courses for children of different ages, such as ukulele club, dance, etc.
It's Wee Bop series of courses includes 6 music-themed series courses for infants and preschoolers, including My First Music Lesson, Instrumental Adventures, Tots and Tunes, etc. Big action development.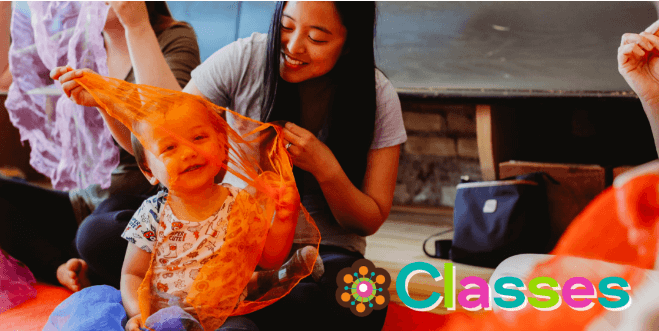 In addition, Kiddywampus also plans to launch a game room service project to provide active, imaginative, and educational games for infants and preschool children, and further increase store customer flow and store frequency.
Conclusion:
With the rise and development of online channels, offline toy stores are facing greater competitive pressure. Most of them adopt experiential marketing strategies and set up a large number of interactive experience areas to attract customers. Kiddywampus has made great efforts in selecting products and activities, turning the toy store into a children's community activity center, allowing children to feel happy and growing here, and also promoting the sales of toy products. Its practices are worth learning and learning.
Note: The pictures in the text are from the official website of Kiddywampus
This article is reproduced from CTJPA